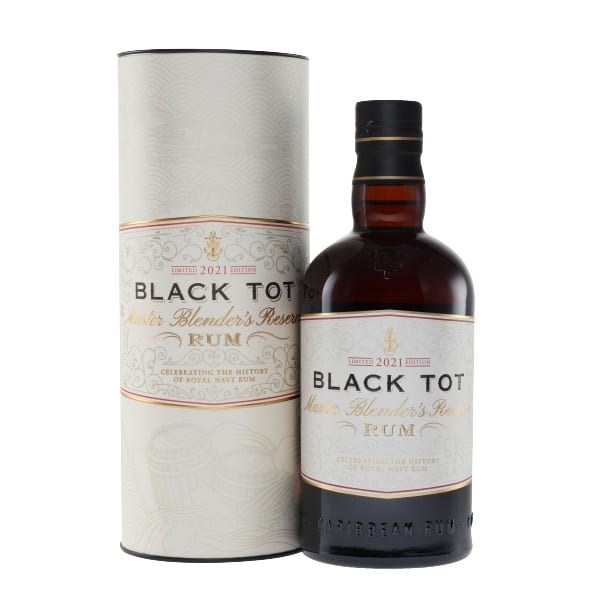 Black Tot Master Blender's Reserve Rum 70cl 54,5%Vol.
€149,00
The 2021 edition of Master Blender's Reserve Caribbean Rum celebrates the 100th Anniversary of the last rum ration given to Australian Navy sailors when serving on British ships. They took some of last year's Black Tot 50th Anniversary Rum blend as the base, re-casking it into ex-sherry butts and barrels, to which they added layers of fruit-driven flavours using different styles of rum, aged between 9 and 24 years, from Guyana, Barbados, Trinidad, Jamaica and Australia, as well as incorporating some of the original British Royal Navy rum blend itself. This rum should bring people together, just as the original did 100 years ago.
Master Blender's Reserve takes inspiration from the Royal Navy tradition of perpetual blending. For 2021, they have aimed to find a tropical citrus quality that people will be able to share with friends and loved ones around the world.
In stock
✓ Available online
✓ Available in store
Description
TASTING NOTES:
NOSE
Cinnamon sticks, cooking in brown butter, with nutmeg and cloves. Overripe mangoes and baked bananas, with dusty dark chocolate. More citrus notes build in the glass – satsumas and freshly squeezed navel oranges blend with juicy nectarine and cooked honey. In the background, a dense oily note complements the zesty flavours and merges with herbaceous notes of mint and lemon thyme.
PALATE
At first, a huge hit of concentrated orange and mango juice, with fresh mint and golden brown caster sugar. The sweetness evolves into milk chocolate and salted caramel, while the fruit seems to become denser, bringing in flavours of guava and passion fruit. Another sip brings orange blossom, balanced by runny honey.
FINISH
Clementine and mandarin make up a citrus salad, evolving with a pleasing dryness reminiscent of thyme and oregano. Right at the very end, a hint of diesel oil.
RECIPE:
Black Tot Master Blender's Reserve is inspired by the philosophy or Royal Navy rum blending. It displays a wonderful range of origins – from Guyana, Trinidad, Jamaica, Barbados, Australia, our Black Tot 50th Anniversary Rum and the Royal Navy world blend. Below you will see the breakdown of our blend composition in percentage terms. We put enormous value on transparency, and so we are delighted to share our recipe with you.
GUYANA
Guyana historically has been one of the world's leading producers of molasses and rum, and it was undoubtedly the heart of the Navy Rum blend. Despite the consolidation of its many distilleries, Guyana's historic stills have survived and continue to make a variety of rich and flavourful rum marques at Demerara Distillers.
13.5% 17 YEAR OLD DEMERARA DISTILLERS COLUMN STILL
BARBADOS
The birthplace of molasses rum in the Caribbean. Barbados is famous for elegant and balanced blends of pot & column still rum, with notes of tropical fruits, vanilla, and coconut.
17.7% 10 YEAR OLD FOURSQUARE POT/COLUMN
TRINIDAD
Trinidad's most famous rums have all developed out of distilleries founded in the 1900s, most notably Caroni and Trinidad Distillers. The former made a heavier style column still rum (no longer in operation), and was a core component of the original Navy Rum blend – while the latter is a lighter, cleaner style, and is responsible for continuing the heritage of Trinidad rum today.
21.1% 11 YEAR OLD TRINIDAD DISTILLERS COLUMN STILL
18.5% 10 YEAR OLD TRINIDAD DISTILLERS COLUMN STILL
2.8% 24 YEAR OLD TRINIDAD DISTILLERS COLUMN STILL
JAMAICA
Classically a heavier style pot-still rum, Jamaican distilleries like Hampden utilise longer fermentation times, as well as wild yeast strains, and the addition of dunder and muck pits in their molasses ferment to create distinctively big, funky flavours.
5.3% 9 YEAR OLD HAMPDEN POT STILL
AUSTRALIA
Introduced to this blend to mark 100 years since the cessation of rum rations for Australian sailors serving on British ships.
6.7% 14 YEAR OLD BEENLEIGH POT STILL
BLACK TOT 50TH ANNIVERSARY RUM: Used as the base for this blend.
14.1% PERPETUAL BLEND
BRITISH ROYAL NAVY WORLD BLEND
World blend of original navy rums, continuously blended in wooden vats from the early 1800s through to 1970.
0.3% SOLERA ORIGINAL ROYAL NAVY BLEND POT/COLUMN
NO SUGAR ADDED
Bottled in Scotland
Only logged in customers who have purchased this product may leave a review.