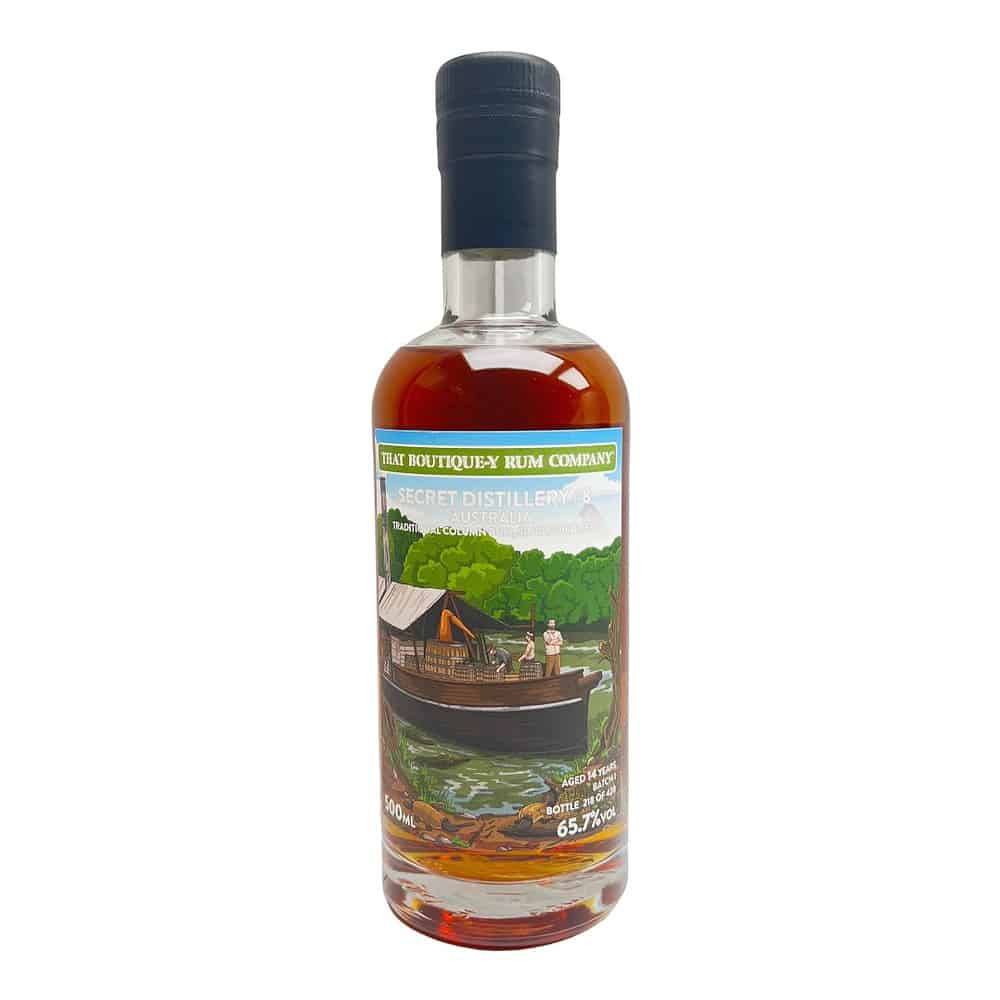 That Boutique Y Rum Company Australia Secret Distillery #8 14 Years Batch 1 50cl 65,7%Vol
€94,90
Now we might not be able to display the producers name on our Secret Distillery #8 bottling, but we might say that it was produced at Australia's oldest operating distillery. We can also say it's not Bundaberg…
This fabulous long-aged Rum was produced from Queensland molasses, fermented for twelve days using the distillery's proprietary yeast. Then the wine was then 'stripped' using a continuous column still, and then further distilled via a spirit run in their 15,000 litre Copper Vat Still (in August 2007). It was entered into American Oak Vats & Casks in Australia in September 2007 and aged for ten years. Finally the Rum was transported to the UK at the end of 2017 and refilled into a Once Used ex-Bourbon cask. It's an absolute cracker of a Rum and well worth seeking out.
In stock
✓ Available online
✓ Available in store
Description
The Label: We can't focus on the 'who' specifically, so why not consider some Aussie Rum history? In 1865 a duo from England purchased 300 acres of land fronting the Albert River. They named the clearing after their old Devonshire farm and planted sugar cane. Around the same time, a man called James Stewart, known as 'The Bosun' was operating a floating sugar mill, aboard the S.S. Walrus, along the Albert and Logan Rivers. He found a productive use for the excess molasses he produced – making Rum! In 1884 the SS Walrus washed up on the river bank . No-one was aboard – except The Bosun's Copper Pot still – and the distillery was born.
Our label features the famous S.S. Walrus and ATOM's finest in the form of Simon McGoram, our man in Asia-Pacific standing proud on the prow.
Tasting Notes By BOUTIQUE-Y PETE:
Nose: Complex and engaging. Green pineapple, crisp white pear, and lemon oils. Cane sugar sweet, fresh coconut, runs up against burnt rubber, a little cocoa powder, and gentle liquorice. A delicate floral note of jasmine intertwines.
Palate: Sweet onto the palate, lovely fresh mango and green pineapple. Butterscotch and dark chocolate. Dates and raisins. A touch of burnt rubber.
Finish: A lovely balanced grip lingers nicely. A soft touch of ginger, with a smoky, burnt rubber note. Black pepper, black tea, and a lovely zesty orange note.