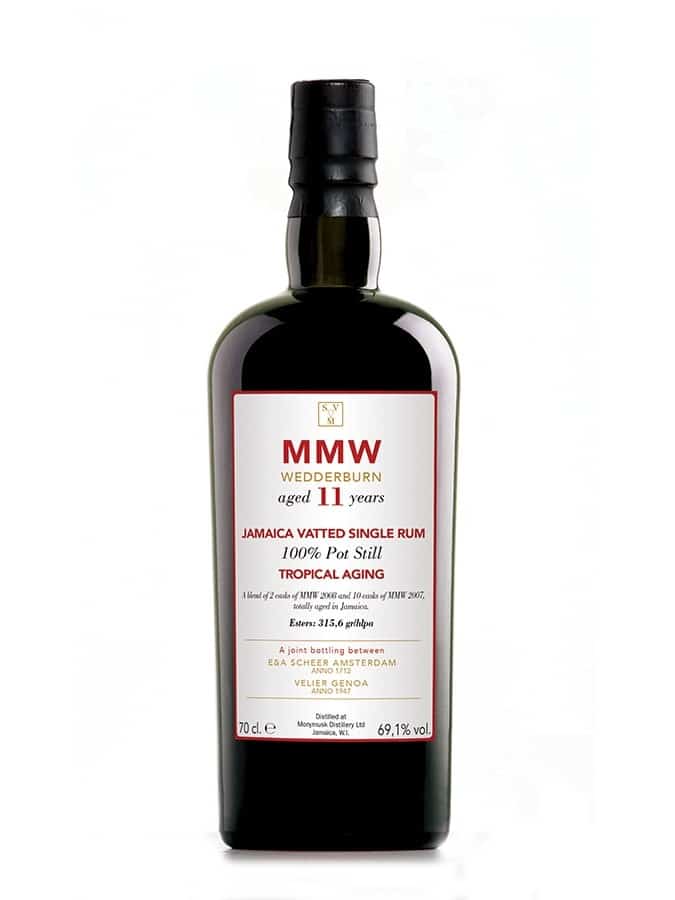 Sale!
Velier Monymusk 11 years MMW Blend Tropical Aging Wedderburn 70cl 69,1%Vol.
€127,50 -15% OFF
Distillery name – Monymusk
Country – Jamaica
Classification – Pot Still Rum
Age + Maturation – 11 Tropical Years
ABV – 69,1%vol.
Cont. – 70cl
Mark – MMW
This version aged entirely in a tropical climate in Jamaica is a blend of 2 casks distilled in 2008 and 10 casks distilled in 2007. Part of the Wedderburn category of rums produced by the Monymusk-Clarendon distillery, it has an ester-content of 315.6 grams per hectolitre of pure alcohol.
In stock
Description
We are proud to present the following new products from La Maison & Velier and E.A. Scheer with the name: 'The Two Merchants' !
The idea behind these products is that you can now make a perfect comparison between the ripening of rum in different climates. For this scoop, the same rum was used identically. It was distilled at the same time, in the same distillery and aged in the same type of barrels.
The difference is that one rum is aged in the Monymusk distillery in Jamaica and the other in Europe. The contrast between the two products is enormous and your taste buds will be treated to two completely different creations.
First there are the two products of the MMW Wedderburn (11 years old). Both are distilled in the same way at the Monymusk distillery in Jamaica. The names of the MMW's speak for themselves: there is the 'Tropical Aging' and the 'Continental Aging'.
Monymusk MMW 11 years Wedderburn TROPICAL
The Tropical Aging (69.1%) has a rich and fruity nose, with clear pineapple and peach scents. Once you taste it, the spicy and vanilla flavors meet you. The taste of cocoa and a real 'smokiness' come to the fore as you discover more flavours.