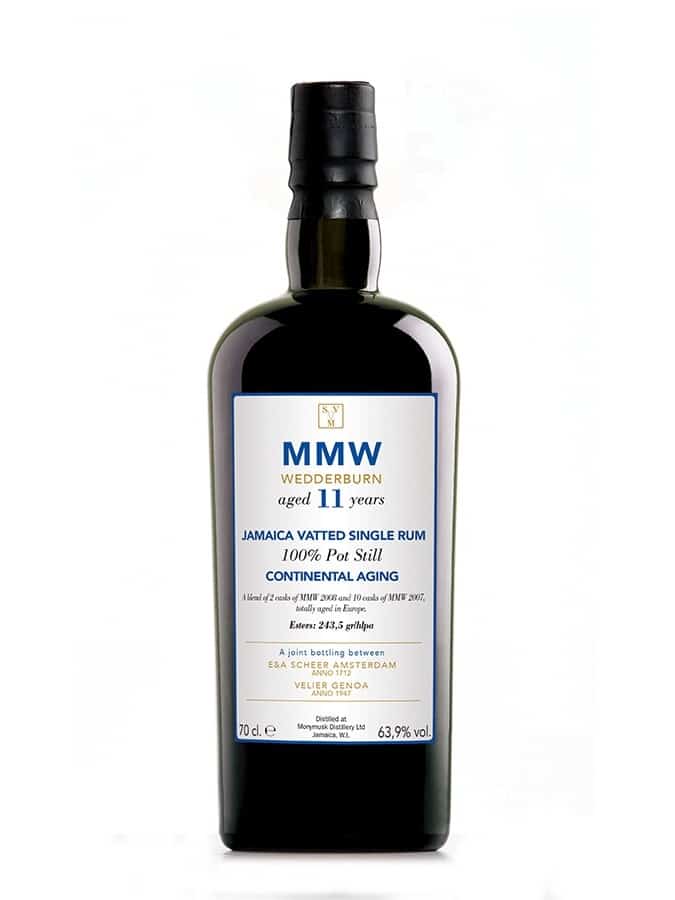 Sale!
Velier Monymusk 11 years MMW Blend Continental Aging Wedderburn 70cl 63,9%Vol.
€109,30 -15% OFF
Distillery name – Monymusk
Country – Jamaica
Classification – Pot Still Rum
Age + Maturation – 11 Continental Years
ABV – 63,9%vol.
Cont. – 70cl
Mark – MMW
Produced from a blend of 2 casks distilled in 2008 and 10 casks distilled in 2007, this version aged entirely in a continental climate in Europe has an ester content of 243.5 grams per hectolitre of pure alcohol.
In stock
Description
We are proud to present the following new products from La Maison & Velier and E.A. Scheer with the name: 'The Two Merchants' !
The idea behind these products is that you can now make a perfect comparison between the ripening of rum in different climates. For this scoop, the same rum was used identically. It was distilled at the same time, in the same distillery and aged in the same type of barrels.
The difference is that one rum is aged in the Monymusk distillery in Jamaica and the other in Europe. The contrast between the two products is enormous and your taste buds will be treated to two completely different creations.
First there are the two products of the MMW Wedderburn (11 years old). Both are distilled in the same way at the Monymusk distillery in Jamaica. The names of the MMW's speak for themselves: there is the 'Tropical Aging' and the 'Continental Aging'.
Monymusk MMW 11 years Wedderburn CONTINENTAL
The Continental Aging (63.9%) has a milder nose, with smells of frangipane and lime jumping out. The palette of flavours reveals flavours of apple, fennel and ginger. This rum ends with a striking taste of spices and grapefruit. To really tame and get to grips with the strong personality of this Wedderburn Monymusk, it essential to give it time to open up.