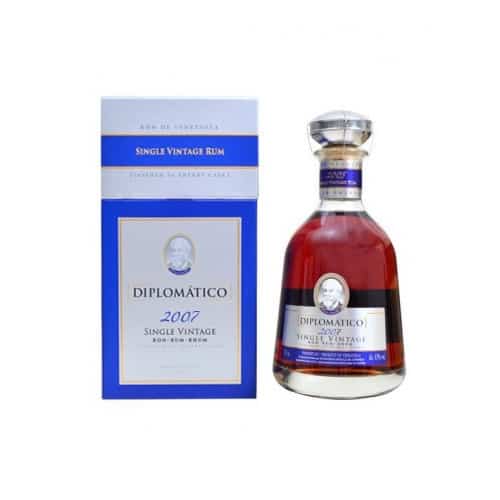 Diplomatico Single Vintage 2007 70cl 43%Vol.
€102,40
Diplomático Single Vintage is the product of a careful selection of rum reserves that have evolved exceptionally.
After twelve years of aging in bourbon and malt whisky casks, this rum is placed in Oloroso sherry barrels to provide the perfect finish.
Its rich aromatic profile includes notes of vanilla, spices and almonds.
It is silky and incredibly flavorsome on the palate with a taste of tobacco, oak and caramel.
70cl 43%vol
In stock
✓ Available online
✓ Available in store
Description
BEST SERVED
Enjoy it neat.
NUTRITIONAL INFORMATION
NUTRIENTS AVERAGE QUANTITY PER 100ML
Energy (Kcal) 246.0
Protein (g) 0.0
Total Fat (g) 0.0
Total Sugar (g) 1.5
This product does not contain any Food Additives such as flavorings, artificial colorings or artificial sweeteners; nor animal derived ingredients; nor glycerin.
This product is not produced from GMOs, nor does it contain ingredients produced from these organisms, and so does not require labeling as GMO. This statement complies with Regulation (EC) 1829/2003.
Only logged in customers who have purchased this product may leave a review.