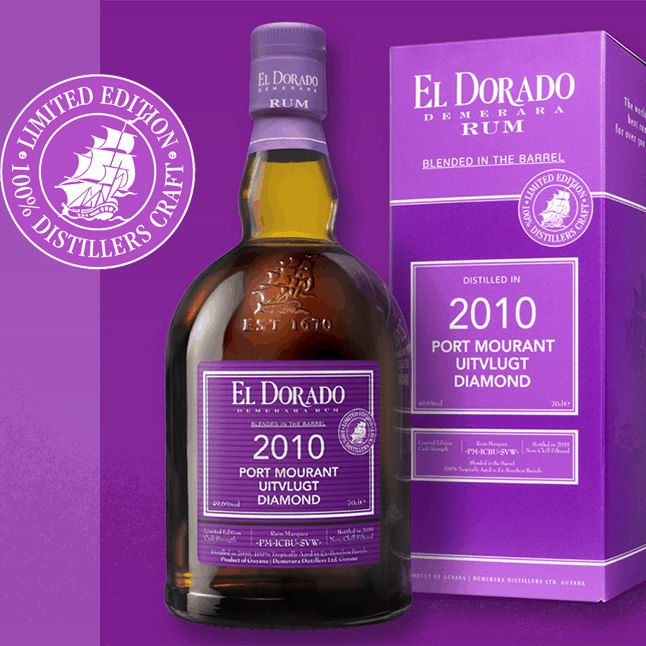 El Dorado Blended In The Barrel Port Mourant Uitvlugt Diamond 2010 70cl 49,6%vol.
€174,00
El Dorado Demerara Rum
Blended In The Barrel Collection
Distilled: 2010
Bottled: 2019
• Port Mourant Wooden Double Pot Still
Rum Marque: PM
• Uitvlugt Continuous Savalle Still
Rum Marque: ICBU
• Diamond Continuous Coffey Still
Rum Marque: SVW
In stock
Description
Demerara Distillers Ltd. has created this unique expression. in 2010 Rum Marques of the Port Mourant Wooden Double Pot Still, the Uitvlugt Continuous Savalle Still and the Diamond Continuous Coffey Still selected. The Marques PM, ICBU and SVW are blended in the vessel immediately after distillation. After this, this rum matured for 9 years in ex-bourbon barrels under tropical conditions in Guyana, resulting in a very elegant rum.
Tasting notes
• Color: Dark gold, amber • Nose: molasses, honey, caramel, vanilla, cinnamon and nutmeg. A hint of licorice, walnuts and hazelnuts.
• Taste: Sweet notes of rich molasses, honey and caramel, vanilla and nutmeg.
Unique "Blended in the Barrel" series from El Dorado Rum:
The traditional way of blending at Demerara Distillers is "blending after aging." Hereby the rum first ripens in the barrel, before being mixed into a beautiful rum by the Master Blender. In contrast to this traditional way, the "Blended in the Barrel" range offers a unique opportunity to experience a non-traditional way of blending. The individual marques are in fact mixed immediately after distillation and also matured as a blend. All four different expressions are aged in ex-Bourbon barrels under tropical conditions in the Demerara warehouses in Guyana. Bottling for barrel strength is also done in Guyana. This unique series is filtered non-chill to preserve all unique and individual flavor profiles as much as possible.
Rum Marques:
The Demerara Distillers distillery uses a number of unique historical stills, all of which originate from various sugar plantations in Guyana. With these historical stills, Demerara Distillers is one of the few producers of rum that has the distinctive capacity to create unique rums and to provide them with different rum marques (types). The four different expressions in the "Blended in the Barrel" series are all based on individual rum marques from these different historical stills.